For over 120 years, Champion has been a family run business, creating solution-oriented tools that aim to increase productivity on every job. Based out of Rockville Centre, New York, Champion's roots began with Leon Frey Sr., who launched the company as a hardware store in downtown New York City in 1897. While the company has evolved from a distributor to a manufacturer of their own products, Champion still shares the same core values they were founded upon: providing excellent, personalized service and ensuring that their tools are available wherever and whenever they are needed.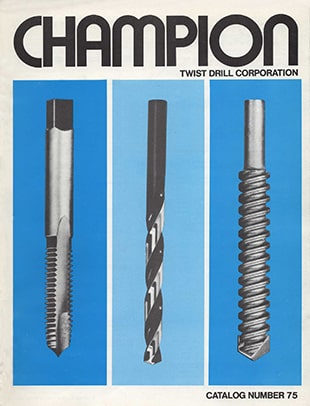 In the '70s, Champion took off as a leader in the cutting tool industry with the introduction of the Brute XL5 Drill, engineered to be the first premium HSS twist drill bit for drilling through stainless steel using a handheld power drill. As the company evolved, new products were added that also stood out from the rest, including High Speed Steel Gun Taps, Reamers, Carbide Burs with Titanium Nitride Coating, Mag Drills, Carbide-Tipped Hole Cutters, Metal-Cutting Circular Saw Blades, and most recently, the Brute XSR Step Reamer–the ultimate maintenance tool for reaming holes in steel. For 2020 and beyond, Champion remains committed to creating innovative, problem-solving tools, and they were generous enough to stop by Ohio Power Tool to give us a run-down of their 2020 product line.
Brute Platinum XL5 Jobber
The original invention from 1971 that made Champion stand out against competitors is still one of their top products to this day. The Brute XL5 twist drill bit can drill fast, accurate holes through tough materials like aluminum, steel, stainless steel, titanium alloys, and more using either a power drill, drill press, or CNC machine. Brute drills are engineered to be flexible and will not easily snap like brittle cobalt drill bits. Their tapered web geometry allows for fast, easy penetration and added tool strength. When Champion stopped by to demo the XL5, we saw it cut through a 1/2″ I-beam in just 9 seconds, compared to 80 seconds with a competitor product. For professionals who need to drill a lot of holes throughout the day, this is definitely an ideal bit to use to get the job done quickly.
Reamers
Whether you need a Bridge Reamer, Car Reamer, Taper Pin Reamer, or new Step Reamer, Champion has top-of-the-line versions available. Reamers are used to enlarge holes in a variety of materials, and in 2019 Champion expanded it's reamer line with the Brute XSR Step Reamer. Each Step Reamer has 5 drill sizes, meaning that you don't need to carry around multiple tools for each size hole that you need to drill. The Step Reamers can be bought individually, or you can buy the 3-Piece Bit Set, covering a range of sizes from 5/16″ all the way to 1-1/16″.
Carbide Tipped Hole Cutters
When you need to drill fast, accurate holes through materials at larger depths, the Carbide Tipped Hole Cutters are an excellent tool to use. With ultra-sharp Tungsten Carbide teeth, these hole cutters quickly produce smooth, perfectly round holes in steel, stainless steel, or other tough materials. If you're looking for something that will outperform your bi-metal hole saw, the Champion Carbide Tipped Hole Cutters will definitely do the trick.
Champion's full line of products includes a variety of other power tools and power tool accessories that are all crafted for superior performance and handling on the job. If you have any questions about Champion tools/bits or can't find what you need, the team at Ohio Power Tool is happy to help if you call 800-242-4424 or email sales@ohiopowertool.com, or feel free to leave a comment below!